Strengthening and toning muscles in your face and body is a painstaking task, and not all of us have time to spend in the gym or on special exercises. Fortunately, you have several nonsurgical treatment options for lifting, tightening, and building your muscles from head to toe.
These highly effective treatments use electromagnetic energy to stimulate muscle contractions—tightening your face, strengthening your pelvic floor, and giving you long, lean body muscles that make it look like you spent hours in the gym.
EMSCULPT NEO® tones your muscles, contours your body, and eliminates fat without hitting the weights!
EMSELLA® stimulates muscle contractions in your pelvic floor, similar to Kegel exercises, to strengthen weakened muscles and improve incontinence.
EMFACE® tightens and lifts lax facial skin and builds the underlying muscles for a smoother, contoured face.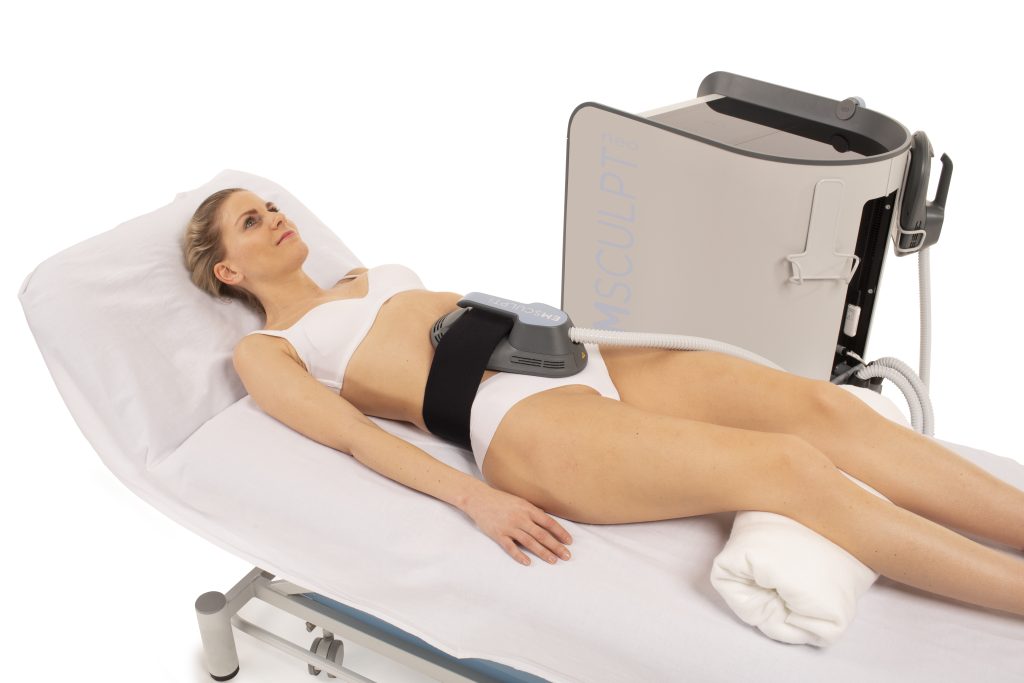 How Does EMSCULPT NEO Work?
EMSCULPT NEO combines high-intensity focused electromagnetic energy (HIFEM) and radiofrequency (RF) to burn excess fat while building muscle. The radiofrequency energy heats and destroys fat cells, and the electromagnetic energy stimulates muscle contractions, like what you achieve in the gym, to tone and build muscles.
The treatment takes only 30 minutes and is entirely non-invasive. You will feel a sensation of heat and intense muscle contractions. A prime benefit of this treatment is that no downtime is needed, and you can return to your regular routine immediately. You can also pair your EMSCULPT NEO treatment with CoolSculpting® for additional body contouring.
This previous blog discusses the benefits of combining EMSCULPT NEO and CoolSculpting.
What Areas of the Body Can EMSCULPT NEO Be Used On?
You can use EMSCULPT NEO on areas of your body that need muscle toning. Here are some of the common areas EMSCULPT NEO treats:
Upper arms
Buttocks
Inner and Outer thighs
Hamstrings
Quads
Obliques and flanks
Calves
Abdomen
Most people get optimal results with at least 5 treatments, each spaced about a week apart.
What Can I Expect During My EMSELLA Treatment?
During your EMSELLA treatment, you will sit on a chair-shaped device that emits electromagnetic energy. It uses the same HIFEM technology used during EMSCULPT NEO. Your muscles responsible for urinary, bowel, and sexual functions will be strengthened during this treatment, improving issues with all forms of incontinence and sexual dysfunction.
Like EMSCULPT NEO, there is no downtime needed after your EMSELLA treatment. For the best results, you can choose twice-weekly sessions for a duration of 3 weeks.
Does EMFACE® Smooth Wrinkles Too?
Rejuvenating the face requires more than just addressing the skin. Similar to EMSCULPT, EMFACE uses High-Intensity Facial Electrical Stimulation (HIFES) energy to tone facial muscles. The RF energy stimulates collagen and elastin production to minimize wrinkles and tighten sagging skin, while the HIFES energy tones facial muscles to support and lift the skin.
After just a 20-minute non-invasive procedure treatment, your face will feel revitalized with a more youthful appearance. Like EMSCULPT NEO and EMSELLA, there is no downtime after your EMFACE treatment. For the best results, patients need one EMFACE session per week for a duration of 4 weeks.
EMSCULPT NEO, EMSELLA, and EMFACE treatments all focus on strengthening and building muscle, creating a strong body, core to floor, with a rejuvenated face to match. We're happy to talk with you about whether you are a good candidate for these treatments and what type of results you can expect. Please request a consultation or call us at (541) 200-2444 to schedule an appointment.