Pure MedSpa
3143 Signature Ct.
Medford, OR 97504
Phone: (541) 200-2444
Tuesday–Friday: 9 a.m.–6 p.m.

The Clinic for Dermatology & Wellness
2924 Siskiyou Blvd, Suite 200
Medford, OR 97504
Phone: (541) 200-2777
Tuesday–Friday: 7:30 a.m.–5:30 p.m.

EMSELLA®

Thousands of people are limiting their lives due to stress urinary incontinence and the issues it causes, like anxiety, embarrassment, and missing out on certain activities. If this sounds familiar, you can enjoy freedom from this lifestyle with noninvasive pelvic floor strengthening via EMSELLA.
Available at our Medford, OR, dermatology practice serving the Rogue Region, EMSELLA retrains and rebuilds weakened pelvic floor muscles to give you peace of mind and make worries about unwanted bladder leaks a thing of the past.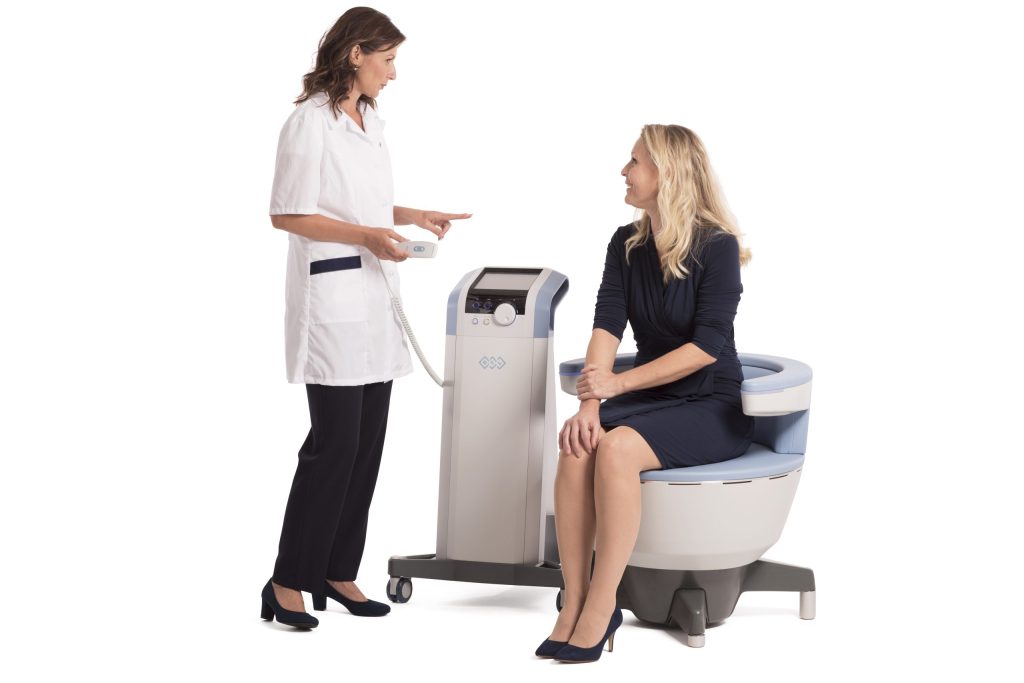 What Is EMSELLA?
EMSELLA is an innovative, noninvasive treatment for urinary incontinence and weakened pelvic floor muscles. It strengthens muscles often weakened due to childbirth or aging, giving you back control over your pelvic musculature so you can live confidently without worrying about any unexpected leaks.
How Does EMSELLA Work?
EMSELLA stimulates pelvic floor muscle contractions using electromagnetic energy delivered through a specially designed chair applicator. It uses the same high-intensity focused electromagnetic (HIFEM) technology as body contouring treatment EMSCULPT NEO®. The energy retrains the muscles through a series of thousands of deep contractions during a single session, essentially providing an intensive workout to the precise muscles responsible for urinary functions. You may enjoy a side effect of improved sexual function as well.
Who Is a Candidate for EMSELLA?
EMSELLA is ideal for those whose pelvic muscles have weakened over time due to childbirth or aging. If you experience leaks when you laugh, cough, or sneeze (stress urinary incontinence) or have to take frequent and urgent trips to the restroom (overactive bladder), EMSELLA can help.
Because the device is noninvasive and generally low risk, it is safe for most people. You may not be a candidate if you are pregnant or have certain medical devices implanted, such as metal plates or a pacemaker.
How Much Does EMSELLA Cost?
The cost of EMSELLA treatments at our Medford, OR, practice varies depending on the unique treatment plan your provider recommends. After an in-depth discussion of your goals, we will provide you with a personalized pricing estimate.
Model
Maximize Your Experience:
Loyalty Programs & Specials
Get more from every visit! Explore our loyalty programs for exclusive offers and instant rewards. And check out our specials to access savings on your favorite medical spa treatments and skincare products.
Model
What Does EMSELLA Feel Like?
EMSELLA doesn't require any incisions, injections, or internally inserted applicators. You don't even have to undress. You'll simply sit on the chair-shaped device as its energy stimulates muscle contractions. You will likely feel your muscles tensing and relaxing, similar to the way they would during Kegel exercises. A single session delivers results comparable to doing 10,000 Kegels in just 30 minutes.
What Is EMSELLA Recovery Like?
You can resume your normal activities right away. You won't need to take any time away from work, the gym, intimacy, or the rest of your daily routine.
How Many EMSELLA Treatments Will I Need?
Most people need a series of 6 sessions scheduled twice a week over 3 weeks to enjoy their best results.
Your Best You Awaits
If you would like to learn more about enjoying freedom from urinary incontinence with EMSELLA, please book an appointment online or call (541) 200-2444. Our office welcomes people from throughout Southern Oregon and Northern California.
Meet


Your Providers

At Pure Medspa in Medford, OR, you can expect all the indulgence of a spa experience with all the medical expertise of a dermatology practice. Your provider team includes two trained and experienced dermatology specialists: Medical Director Dr. Kevin Wright, board-certified dermatologist, and Aesthetics Director Joe Gatti, PA-C. Using evidence-based treatments and techniques, they create customized results with safety, precision, and artistry.
Dr. Wright
Medical Director
Joe Gatti, PA‑C
Aesthetics Director
What Our


Guests Are Saying
Taylor is so amazing along side the whole team at pure MedSpa! Had such a great and informative experience...
Absolutely gorgeous!! Every single member of the staff is amazing!! Highly recommend
Christine is calming and gentle. Professional and sweet. I love the tone in her voice and the facial...
My facial with Christine was very therapeutic! She did a very thorough job. I loved the pumpkin enzyme...