Pure MedSpa
3143 Signature Ct.
Medford, OR 97504
Phone: (541) 200-2444
Tuesday–Friday: 9 a.m.–6 p.m.

The Clinic for Dermatology & Wellness
2924 Siskiyou Blvd, Suite 200
Medford, OR 97504
Phone: (541) 200-2777
Tuesday–Friday: 7:30 a.m.–5:30 p.m.

Our Providers
Our medical spa is dedicated to evidence-based treatments delivered in a luxurious environment. To ensure that you get the caliber of care and results you deserve, our team at Pure Medspa in Medford, Oregon, is supervised by a board-certified dermatologist and a certified physician assistant. Their experience and dedication to dermatology and skincare inform our choices of products and technology, as well as the treatment plans we develop for our guests.
---
Dr. Kevin Wright – Medical Director
Introducing Dr. Kevin Wright, the Medical Director at Pure Medspa and a renowned dermatologist whose expertise is recognized far and wide. His journey has spanned from the sunny coasts of San Diego to the scenic beauty of Medford, leaving a trail of transformed lives and radiant smiles.
Dr. Wright is not just a board-certified dermatologist; he's a force to be reckoned with in Mohs surgery, surgical, general, and cosmetic dermatology. His career has seen him serve as an active-duty officer in the US Navy, where he honed his skills as a staff dermatologist at the prestigious Naval Medical Center in San Diego. This global journey of service, learning, and dedication has led him to our beautiful Rogue Region, where he has chosen to settle and extend his expertise to our community.
Armed with a medical degree from the esteemed Uniformed Services University of the Health Sciences in Washington, DC, Dr. Wright embarked on a unique journey. He ran a hyperbaric chamber for US Navy dive teams in Micronesia, followed by three intensive years of dermatology training at the Naval Medical Center San Diego. His exceptional leadership and dedication saw him serving his last year as chief resident, a testament to his unwavering commitment and skill.
As a specialized Mohs skin cancer surgeon, his knowledge and skills cover all facets of complex medical and surgical dermatology, with an extraordinary focus on aesthetics. As a previous trainer for residents on cosmetic procedures, Dr. Wright's expertise practices and shares his knowledge, making him a true leader in his field.
When he's not transforming lives in the clinic, Dr. Wright is an enthusiastic surfer who finds balance in nature. He loves hiking, camping, and spending quality outdoor time with his family.
Dr. Kevin Wright is not just a provider—he's a surgical artist and leader in surgical dermatology and aesthetic medicine, a mentor, and a passionate outdoor enthusiast. Experience the best in dermatology and aesthetic cosmetic medicine with Dr. Wright at Pure Medspa—where skill, experience, and passion come together to create an unparalleled skincare journey.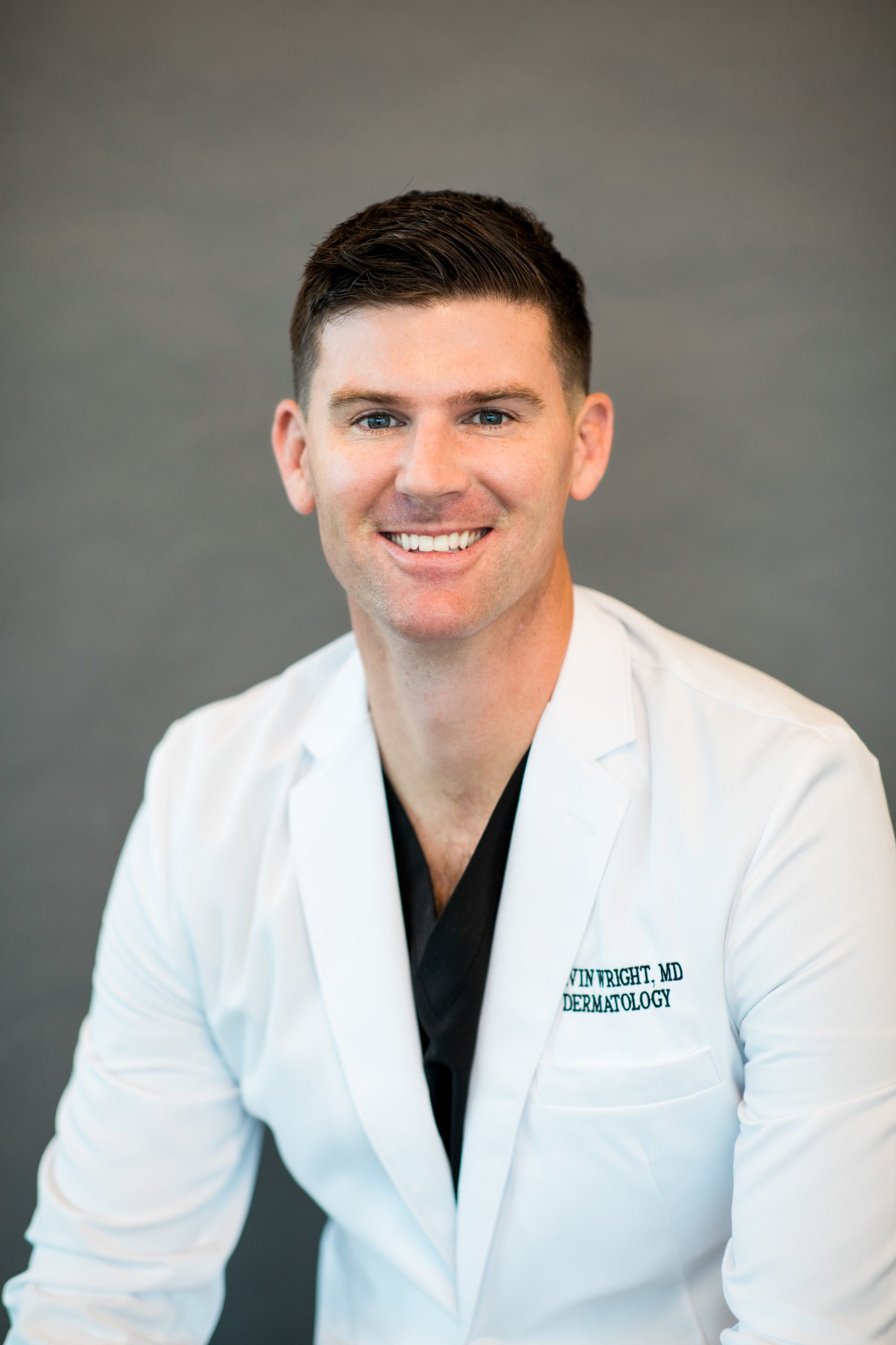 Joe Gatti, PA-C – Aesthetics Director
Meet Joe Gatti, a master craftsman in dermatology and aesthetic cosmetic medicine and the proud co-founder of Pure Medspa. A journey that started in the scenic landscapes of the Pacific Northwest has led Joe to become a leading light in his field right here in Medford.
Joe's dedication to excellence is as vast and deep as the Pacific. The military discipline and leadership skills he acquired as a graduate of the United States Military Academy at West Point still shine brightly in his work. His journey in the military culminated in the prestigious Interservice Physician Assistant Program at the University of Nebraska Medical Center, where he graduated with a Master of Physician Assistant Studies (MPAS). This distinguished path has culminated in a 13-year career spent mastering the art and science of dermatology.
Joe's exceptional skill set at our state-of-the-art medical spa spans a comprehensive range of treatments that cater to all your skincare and aesthetic needs. As a master in aesthetic dermatology, he deftly guides patients in the best procedures for their goals, ranging from a simple HydraFacial® through our laser offerings such as Sciton BBL®, SkinTyte®, Halo®, Moxi®, and Contour TRL™ resurfacing to rejuvenate and refresh your skin. His expertise in body contouring techniques, including Sculptra®, EMsculpt NEO®, EMface®, and CoolSculpting®, allows him to sculpt and refine your physique to an elevated you.
Joe's proficiency doesn't stop there; he is also adept at administering neuromodulators like BOTOX® and a wide array of dermal fillers to help you achieve a more youthful and radiant appearance. His mastery in advanced dermatologic non-surgical procedures, such as Agnes and Scarlet microneedling, also ensures you receive the most cutting-edge treatments.
With Joe Gatti, you get more than a provider—you get a passionate professional who cares deeply about your skincare needs, both clinical and aesthetic. He brings his world-class expertise and heart to Medford, embodying precision, skill, and genuine care. So, experience the best local dermatology and aesthetic cosmetic medicine services, all under one roof, with Joe Gatti at Pure Medspa.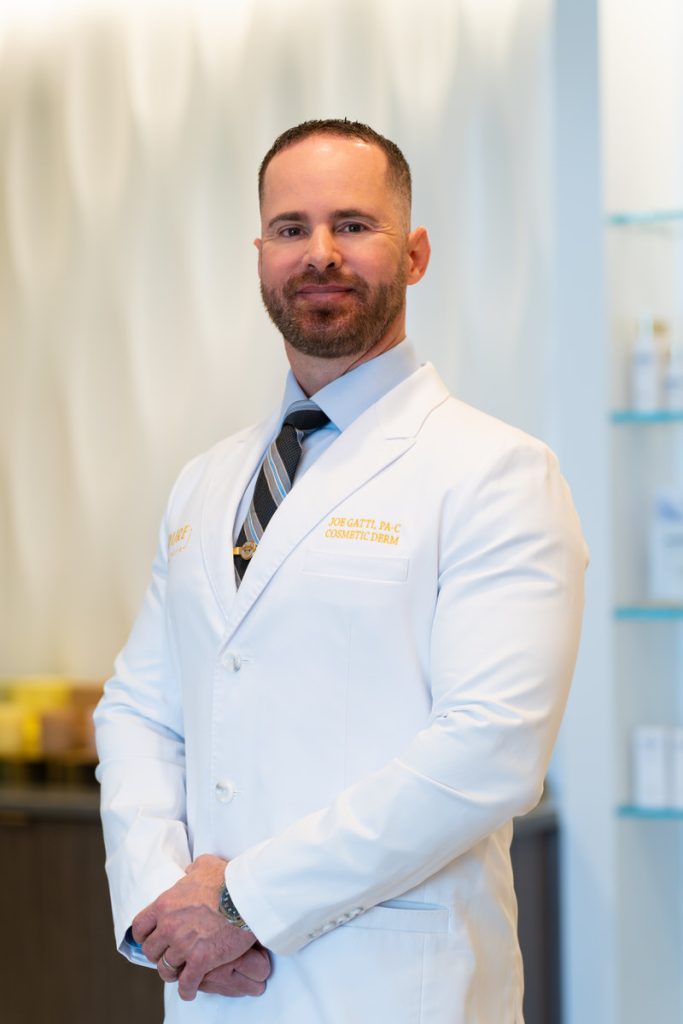 ---
Stefani Ellis – Client Concierge
Stefani Ellis is a tapestry of Oregon's rich landscapes, with her roots firmly planted in the cultural mileu of Ashland. Her journey through Oregon's diverse locales has shaped a worldly perspective that she brings to her role as Client Concierge. College years gave way to a cherished return to Southern Oregon, where she and her husband have built a bustling nest with their four children, a vibrant trio of girls and one adventurous boy.
Fitness and nutrition aren't just hobbies for Stefani; they're a way of life. As a Certified Personal Trainer and an accomplished NPC bodybuilding competitor, she embodies discipline and health, a personal testament to the transformative power of self-care. Her professional path in the beauty industry spans 15 years, with a keen focus on Medical Aesthetics and skincare over the last eight. While her expertise as a Licensed Aesthetician is undeniable, her true calling resonates through the business chords of the industry.
When the day's work is done, Stefani is a sideline champion for her kids, cheering on every sports play and dance step. Her soul finds joy in embracing nature—be it a challenging hike, a liberating run, or the thrill of rafting. Yet, above all, it's the quiet, quality moments with her family that are her sanctuary. Stefani's multifaceted life enriches her approach to client service, making every interaction at the spa a personal and memorable one.
---
Mikaela Ford – Certified Advanced Esthetician
Mikaela's journey in the Rogue Valley, a place she has cherished as home for nearly twenty years, is a tale of discovery and fulfillment. An alumna of Ashland High School and Rogue Community College, her encounter with esthetic treatments sparked a deep-seated passion for enhancing others' well-being. She pursued this calling in 2019 and 2020, obtaining basic and advanced esthetic licenses.
Today, Mikaela is an integral part of our aesthetics team, contributing to laser skin services, body contouring, facial therapies, and more. Away from the clinic, she relishes the serene beauty of Southern Oregon, spending cherished moments with her husband and daughter amidst its picturesque landscapes.
---
Leslie Frederick – Client Concierge
Leslie Frederick greets the world with a spark that rivals the natural wonder of her hometown, Niagara Falls. With a past life dealing cards amidst the glitz and glamour of the casino floor, her twelve-year dance with chance honed a poise and attentiveness that serve her well as our Client Concierge. A pivot to the art of aesthetic medicine marked a new chapter in 2013, when she graduated as an Aesthetician, infusing her work with the same care and precision that once shuffled decks.
Family and adventure are the rhythms that keep Leslie's life in a joyful balance. She's a devoted mother to her vibrant daughter Scarlett and a loving companion to her two dogs, Kona and Terrance. Whether she's pumping iron at the gym, feeling the freedom on her motorcycle, exploring new cuisines in her kitchen, or jet-setting to new destinations, Leslie embodies the spirit of engagement and discovery.
Leslie's infectious love for life and passion for well-being ensure that every guest's experience is touched with warmth, care, and a hint of excitement. As the first point of contact at Pure Medspa, she's not just a concierge; she's a gateway to an experience that promises to leave clients feeling refreshed and ready to take on the world.
---
Emile Garcia – Licensed Massage Therapist
Emile, a masterful Licensed Massage Therapist, brings two decades of specialized experience to the tranquil haven of Pure Med Spa. His illustrious career spans prestigious spas, including the Pure Blu Spa at Marriott and the Pacific Waters Spa at Huntington Beach Hyatt, where his expertise in curating sublime relaxation and rejuvenation experiences was perfected.
Having collaborated with the crème de la crème of athletes at the Olympic Training Center, Emile has honed an exceptional understanding of the body's capabilities, tailoring massage therapies to bolster athletic resilience and recuperation. His versatile skill set is further enhanced by his tenure as an Account Executive for Babor Cosmetics, where he expertly merged the realms of skincare and massage.
Emile's philosophy centers on the body's self-healing potential, with his therapeutic touch ranging from Deep Tissue to Swedish massage, all designed to align and invigorate the body's harmony. When not in the spa, Emile is dynamic, engaging in disc golf, Olympic weightlifting, and refining his Jiu-Jitsu prowess. His involvement in Deepak Chopra's meditation retreats has imbued him with a holistic wisdom that he artfully weaves into his practice.
At Pure Med Spa, Emile is your expert guide for wellness, inviting clients to a sanctuary where the art of massage catalyzes balance, relaxation, and rejuvenation.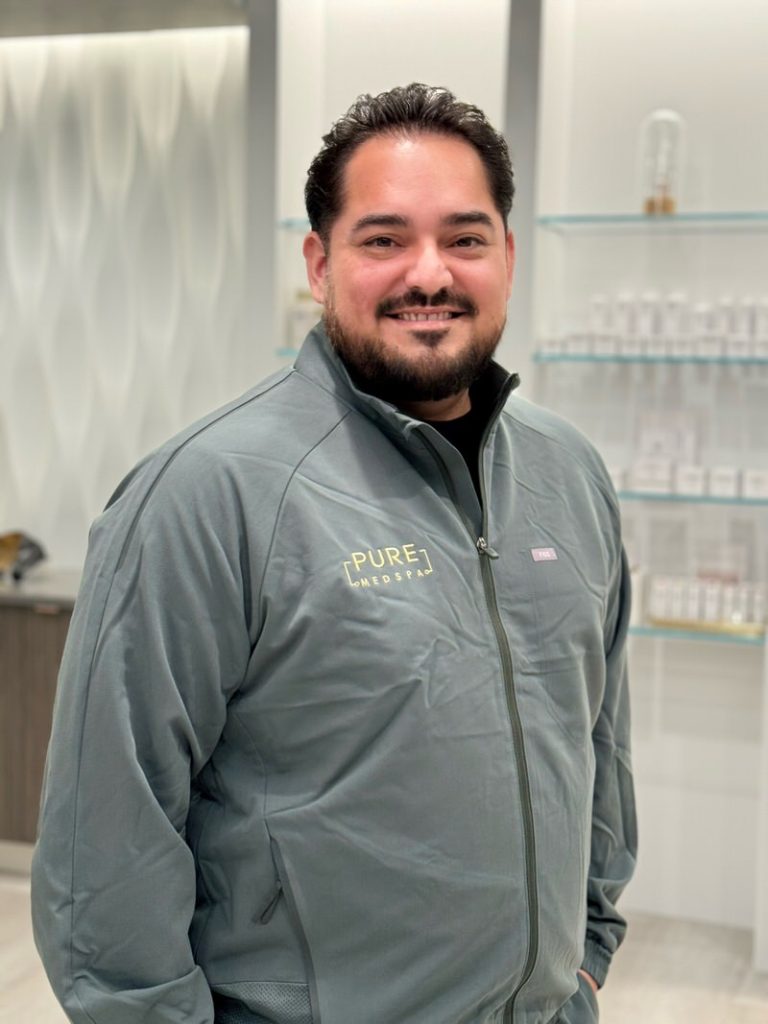 ---
Gwen Hamblin – Licensed Massage Therapist
Gwen Hamblin's affinity with massage therapy is as natural as the rolling hills and lush landscapes of her Southern Oregon upbringing. At PURE MedSpa, she is not merely a practitioner but a nurturer of well-being, having embarked on this path six years ago through the esteemed RCC massage program. Her practice has been a journey of discovery; each technique is fine-tuned through her hands to bring about a harmonious state of relaxation and vitality.
Gwen is an adventurer at heart—whether gliding through water or carving through snow, each experience enriches her understanding of movement and the human body. Motherhood has brought a new dimension to her life, teaching her the intricate dance of energy and tranquility, lessons she lovingly weaves into each session.
Her massage therapy, encompassing the gentle flow of Swedish massage, the nurturing care of prenatal techniques, the restorative depth of tissue work, and the soothing warmth of hot stone therapy, is a testament to her dedication. Gwen believes in the transformative collaboration between therapist and client, ensuring a session at PURE MedSpa is a shared journey toward healing.
---
Siobhan Hammon – Licensed Esthetician
Siobhan Hammon's roots trace back to Raleigh, North Carolina, blossoming through her high school years in Eagle Point, where she kindled a romance with her now husband of two decades. Their enduring partnership has been a nurturing ground for their two children—a son who has flown the nest and a daughter who keeps the home fires burning brightly.
With a trio of dogs, two golden retrievers, and a Lhasa Apso, plus a cat, her home is a hub of warmth and lively companionship. Siobhan is a soul rejuvenated by nature, whether it's camping, rafting along the Rogue River, or basking in the serenity of the beach. Her zest for life spills over into leisurely boutique shopping, delving into books, and staying abreast of the latest makeup and skincare innovations.
Entering the realm of esthetics in 2006, Siobhan has honed her craft with a particular affinity for transforming skin concerns such as acne and melasma. It's the profound connections with her clients, helping them reveal their inner confidence and radiance, that bring her the deepest fulfillment.
---
Taylor Kenney – Certified Advanced Esthetician
Born and raised in Southern Oregon, Taylor began her esthetics journey in 2020. She started her career in Scottsdale, Arizona where she became a certified laser technician. After relocating back to Oregon she obtained her Advanced Esthetics license to continue her passion in the Rogue Valley.
Taylor has attended many advanced trainings and conferences to stay up to date with the newest technologies and products. Taylor loves providing all skin and body contouring services including Hydrafacial's, Emsculpt NEO, laser hair removal and more. She is very knowledgeable about skincare and believes it is very important especially when pairing it with laser and facial treatments.
When Taylor isn't in the office, she enjoys spending time with friends and family on the beautiful Oregon lakes and rivers.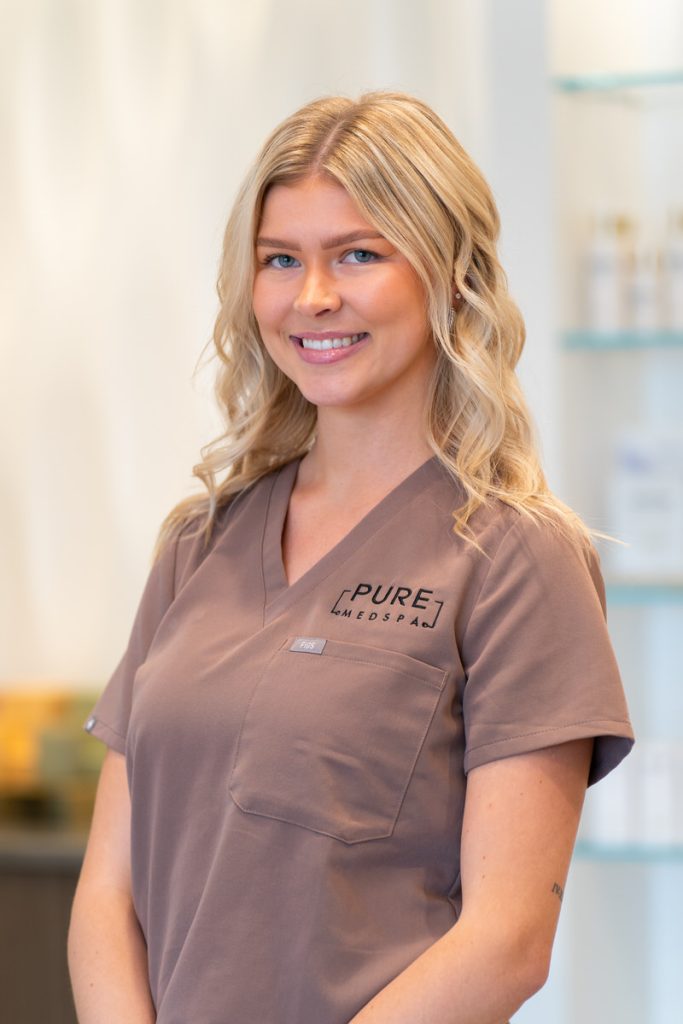 ---
Christine Kuehu – Certified Advanced Esthetician
Christine Kuehu's journey is deeply centered in the verdant landscapes of Southern Oregon, with chapters that span the tranquility of the Hawaiian Islands and the embrace of motherhood. At the heart of her story is a profound connection to health and wellness, a path enlightened by the ancient wisdom of Ayurveda and the disciplined practice of Yoga. These passions have beautifully converged in her role as a Certified Advanced Esthetician, where she blends holistic skincare practices with cutting-edge technology to nurture and transform.
In every facet of the skincare experience, Christine's caring nature and meticulous attention to beauty shine through. Away from the serene confines of the Pure Medspa, Christine's spirit of adventure leads her to the rugged Oregon coast and on scenic road trips. Her greatest joy, however, is found in the laughter and company of her grown children, family, and dear friends, with whom she cherishes every moment spent.
---
Mackenzie Whitley – Licensed Massage Therapist
Mackenzie's origins hail began and continue to thrive in the Rogue Valley. Her journey into the healing arts started right after she graduated from Ashland High School after a passion for massage started at the Ashland Institute of Massage, where she mastered the harmonious dance of touch and technique. Since obtaining her license in 2013, Mackenzie has been a cornerstone in the local bodywork and spa community, revered for her innate ability to create a sanctuary of safety and comfort for her clients.
Her approach is a bespoke blend of various modalities, each chosen and fine-tuned to resonate with the individual needs of her clients, ensuring a transcendent experience with every session.
Away from the nurturing confines of the spa, Mackenzie is an avid explorer of Oregon's natural wonders. Accompanied by her faithful companion Reggie, she embarks on soul-stirring hikes, embraces the refreshing embrace of cold waters, and loses herself in the rhythm of live music. Her passion for life's simple pleasures infuses her work with a grounded, rejuvenating spirit that is palpably felt in her therapeutic touch.
---
Heather Wolf – Licensed Esthetician, Patient Care Coordinator
Heather, a beacon in the Aesthetics community of Rogue Valley for over ten years, is our vitally important Patient Care Coordinator, working with clients at every step of their journey at Pure Medspa. Her career has spanned the entirety of medspa operations, from mastering medical spa management and flourishing as a Licensed Esthetician, roles that have seen her champion transformative journeys for clients and peers.
With an insatiable appetite for knowledge, Heather remains at the cutting edge of skincare and beauty advancements, her insights echoing the latest technological and ingredient innovations. Her knack for nurturing growth extends to her team of exceptional Estheticians and Clinicians, recognized for their diverse and advanced treatments in Oregon. Heather's excellence has earned her the rare accolade of Master Hydrafacialist, one of only four in the state.
Beyond her professional realm, Heather's life is filled with the joys of biking, kayaking, and cherishing moments with her husband and their beloved cat, Monkey. Her approachability and warmth leave a lasting impression, cementing her as an expert and a genuine confidante in the journey towards beauty and wellness.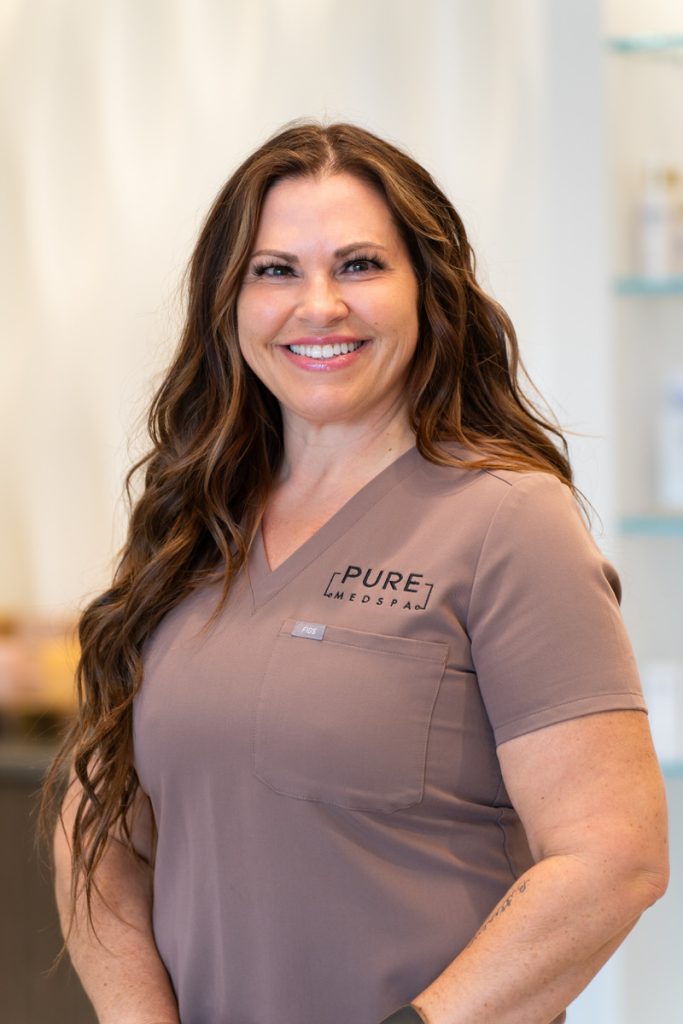 Model
Maximize Your Experience:
Loyalty Programs & Specials
Get more from every visit! Explore our loyalty programs for exclusive offers and instant rewards. And check out our specials to access savings on your favorite medical spa treatments and skincare products.
Model
Your Best You Awaits
If you would like to consult with one of the providers at our medical spa in Medford, Oregon, please call (541) 200-2444 or book an appointment online. Pure Medspa welcomes people from throughout the Rogue Region, including Southern Oregon and Northern California.