Pure MedSpa
3143 Signature Ct.
Medford, OR 97504
Phone: (541) 200-2444
Tuesday–Friday: 9 a.m.–6 p.m.

The Clinic for Dermatology & Wellness
2924 Siskiyou Blvd, Suite 200
Medford, OR 97504
Phone: (541) 200-2777
Tuesday–Friday: 7:30 a.m.–5:30 p.m.

EMSCULPT NEO®

With EMSCULPT NEO at our Medford medical spa, you can boost the power of your workouts to shape the body you've always wanted. This innovative, low-downtime device builds and tones muscles by stimulating rapid muscle contractions, giving you results that would normally take you hours in the gym to achieve.
On this page, you will find answers to all your questions about nonsurgical muscle building, from how it works to how long the results last.
What Is EMSCULPT NEO?
EMSCULPT NEO is the world's first 2-in-1 body contouring technology to provide simultaneous muscle building and fat reduction in a convenient 30-minute treatment. EMSCULPT NEO is the leading FDA-cleared technology for the reduction of superficial fat as well as deeper visceral fat, which competing technologies cannot treat.
No painful laser burns or hair loss. No uncomfortable massages and months of waiting for results. No need for multiple machines and 10-hour treatment days. With EMSCULPT NEO, everything is done quickly and comfortably, all while providing rapid results compared to other technologies.
How Does EMSCULPT NEO Work?
EMSCULPT NEO combines two energies—high-intensity focused electromagnetic energy (HIFEM™) and radiofrequency (RF)—to build muscle and burn fat at the same time. The HIFEM energy stimulates thousands of muscle contractions in your treatment area, while RF energy heats and destroys your targeted fat. Combined, HIFEM and RF work to sculpt and contour your body, revealing slimmer, trimmer, and more toned contours where you need them.
The clinical research on EMSCULPT NEO speaks for itself. On average, patients who participated in seven clinical trials achieved a 25% muscle mass increase, 30% fat reduction, and 17% visceral fat reduction (deeper, firmer fat that other techniques do not affect) without any downtime.
What Does EMSCULPT NEO Treat?
EMSCULPT NEO helps slim and tone the following areas:
Abdomen
Buttocks
Arms
Calves
Thighs
Pure Medspa has a variety of options and plans to help you target as few or as many areas as you wish to treat, all to help you take command of your shape.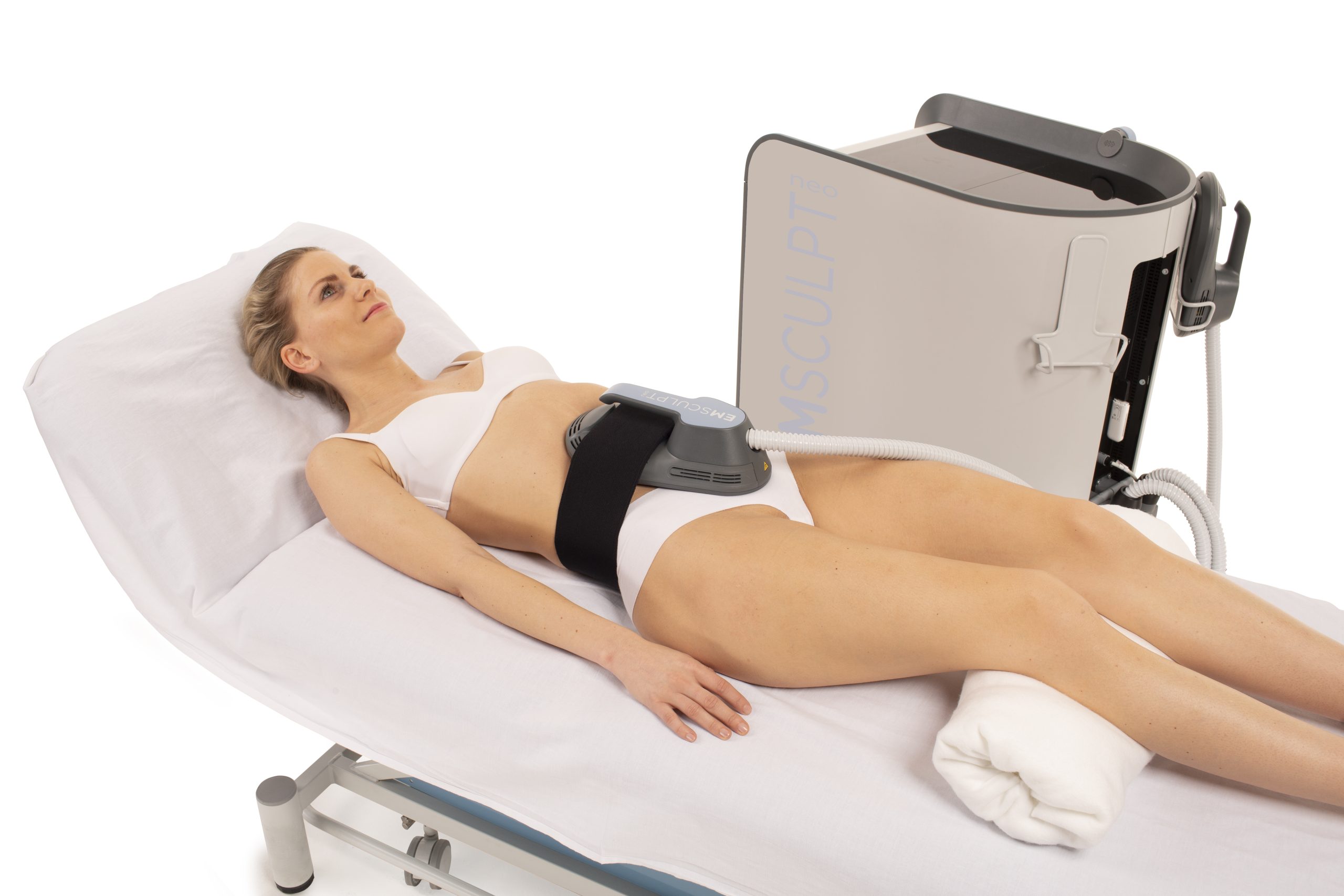 How Much Does EMSCULPT NEO Cost?
At our Medford medspa, the cost of EMSCULPT NEO depends on how many sessions you need, the number of treatment areas, etc. Your provider will give you a personalized pricing estimate based on your treatment plan.
Who Is a Candidate for EMSCULPT NEO?
EMSCULPT NEO is ideal for almost everyone because it works for people with a BMI up to 35. Many of us have areas that we harbor secret thoughts about: "I wish my abdomen were a bit flatter," "I wish my abs would pop more," or "I just want my booty to be more raised/perky."
With EMSCULPT NEO, all of these and more are within your reach! As the technology reaches deep to trigger intense muscle contractions beyond what a patient could self-reproduce, EMSCULPT NEO is unparalleled in bringing about increased gains in muscular strength, fat reduction, increased stamina, and overall sense of well-being.
What Does an EMSCULPT NEO Treatment Feel Like?
During treatment, you should feel intense muscle contractions and a heating sensation comparable to that of a hot stone massage. The treatment power level can be controlled. Our experienced staff will closely monitor your therapy and ask you about the intensity level and your comfort, adjusting it to achieve optimal results.
How Long Does It Take to See EMSCULPT NEO Results?
Optimal results are typically achieved after a series of four treatments spaced one week apart. Results may vary from person to person; EMSCULPT studies showed peak response at 4 to 5 weeks after the completion of the final treatment, with results tapering by month 3.
Model
Maximize Your Experience:
Loyalty Programs & Specials
Get more from every visit! Explore our loyalty programs for exclusive offers and instant rewards. And check out our specials to access savings on your favorite medical spa treatments and skincare products.
Model
What Is EMSCULPT Recovery Like?
There is no downtime with this procedure. All our patients return immediately to their normal day-to-day activities.
Will EMSCULPT NEO Help Me Lose Weight?
Unfortunately, EMSCULPT NEO is not a weight loss treatment. This technology is designed to help reduce fat and build muscles. We find that in many scenarios, as patients' strength and stamina increase, they are more likely to increase a fitness lifestyle that, in return, assists in weight loss. After all, it is easier to be more active when we not only feel better about ourselves but also are stronger than before.
I Am Into Bodybuilding. How Will EMSCULPT NEO Help My Lifting Program?
Many professional and semi-professional bodybuilders and intense athletes will speak of the "plateau" phenomenon, in which further muscular gains or performance gains appear to level off and cease. EMSCULPT NEO can help strengthen the muscle beyond what normal workouts can do, giving you an edge and a "turbo charge" to continue your goals in your weightlifting or fitness routine.
Because EMSCULPT NEO targets existing muscle, patients with significant muscle mass will notice intense contractions that will benefit strongly from the EMSCULPT NEO therapy. Virtually all our patients and those treated by sister clinics with EMSCULPT NEO note a significant improvement in stamina, reps per set while performing weightlifting, and strength.
Your Best You Awaits
If you would like to learn more about making your dream body a reality with a Medford, OR, EMSCULPT treatment, please call (541) 200-2444 or book an appointment online.
Meet


Your Providers

At Pure Medspa in Medford, OR, you can expect all the indulgence of a spa experience with all the medical expertise of a dermatology practice. Your provider team includes two trained and experienced dermatology specialists: Medical Director Dr. Kevin Wright, board-certified dermatologist, and Aesthetics Director Joe Gatti, PA-C. Using evidence-based treatments and techniques, they create customized results with safety, precision, and artistry.
Dr. Wright
Medical Director
Joe Gatti, PA‑C
Aesthetics Director