Pure MedSpa
3143 Signature Ct.
Medford, OR 97504
Phone: (541) 200-2444
Tuesday–Friday: 9 a.m.–6 p.m.

The Clinic for Dermatology & Wellness
2924 Siskiyou Blvd, Suite 200
Medford, OR 97504
Phone: (541) 200-2777
Tuesday–Friday: 7:30 a.m.–5:30 p.m.

HydraFacial®

Is your skin starting to look a bit tired or dull? Maybe you are battling acne or noticing fine lines and wrinkles that seem to multiply daily. We offer HydraFacial at our Medford medical spa—a luxurious and proven facial treatment customized to your skin's precise needs.
What Is HydraFacial?
HydraFacial is a breakthrough in facial treatment technology. In as little as 45 minutes, the HydraFacial provides the benefits of several facial treatments in one. It cleanses your skin, exfoliates dead cells, extracts acne-causing blockages from your pores, and rehydrates the topmost layers of your skin, all using one device equipped with the patented HydraFacial 4-in-1 technology—Vortex-Cleansing, Hydro-Peel Exfoliation, Vortex Extraction, and Vortex Fusion.
How Does HydraFacial Work?
Step 1: Cleanse & Peel
Your HydraFacial begins with the gentle cleansing and exfoliation of the surface layer of your skin, known as the stratum corneum, which is a protective barrier of dead skin cells. This step employs the HydraFacial "hydradermabrasion" process, removing the layer of dead skin cells and other impurities and revealing instantly brighter skin. Next, a light peel of salicylic and glycolic acids is applied. These natural acids gently exfoliate your skin, penetrating under the surface to help open your pores. This process loosens blockages and debris to help your skin to absorb HydraFacial's healing serums and vital nutrients more efficiently.
Step 2: Extract & Hydrate
The second step of the HydraFacial begins with extractions. You may be used to painful manual extractions, which can leave your skin looking red and inflamed, but the HydraFacial uses a gentler vortex extraction technique. This technology uses vacuum suction to remove blackheads, dirt, and other impurities from deep inside your pores. Your skin is then saturated with hydrating moisturizers, which can absorb more efficiently and work their magic deep below the surface of your skin.
Step 3: Fuse & Protect
The final step in your HydraFacial treatment is designed to nourish and protect your skin using a serum that contains essential ingredients like antioxidants, hyaluronic acid, amino acids, and peptides. This luxurious serum delivers vital nutrients along with hydration to improve not only the overall appearance of your complexion but the health of your skin as well. Because the previous steps in the HydraFacial process have revealed a blank canvas, the serum is able to penetrate deeper into your pores than most topical applications. To enhance your results, we can also customize the serum used during this step by adding a "boost" that has been tailored to your specific skin type and needs. If you decide to customize your HydraFacial treatment with a booster, your choices include:
CTGF Growth Factor Boost – Minimizes the appearance of fine lines and wrinkles while restoring your complexion's vitality and health.
Dermabuilder Boost – This booster uses a patented blend of peptides formulated to recharge dull and tired skin while diminishing visible signs of aging.
Britenol Boost – This serum targets sun damage and dark spots, leaving you with a smoother and more even complexion.
The HydraFacial is an entirely non-invasive treatment, and it delivers instantly incredible results without the need for downtime. All that's required is for you to relax and enjoy your soothing facial session while the HydraFacial treatment refreshes and rejuvenates your skin.
Model
Maximize Your Experience:
Loyalty Programs & Specials
Get more from every visit! Explore our loyalty programs for exclusive offers and instant rewards. And check out our specials to access savings on your favorite medical spa treatments and skincare products.
Model
Hydrafacial Before & After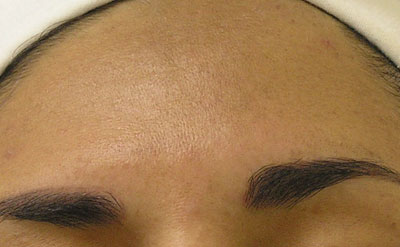 Photos Courtesy of HydraFacial MD®
How Much Does HydraFacial Cost?
The cost of a HydraFacial at our Medford medspa depends on the treatment options selected, the size of the treatment area, and other factors. We will give you a personalized pricing estimate based on your treatment plan.
What Can HydraFacial Treat?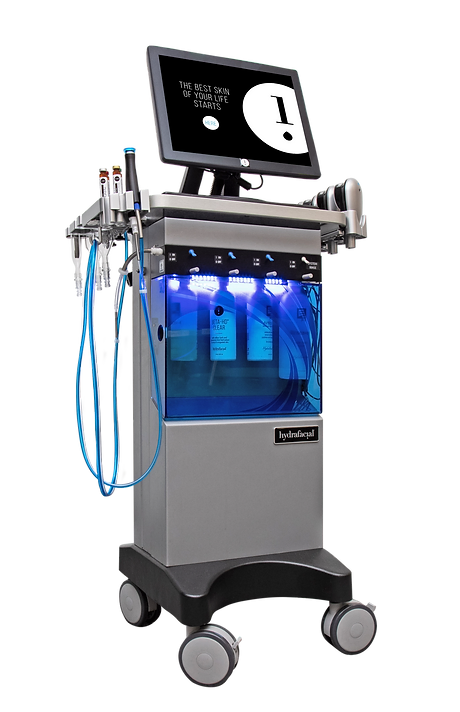 Unlike some facial treatments, the HydraFacial is safe for use on all skin types, tones, and colors, because of its ability to simultaneously be a gentle yet incredibly powerful way to address nearly any skin concern, including:
Fine lines and wrinkles
Dry or rough skin texture
Dull or uneven skin tone
Firmness and elasticity
Hyperpigmentation and age spots
Oily, acne-prone skin
Large pores
An added benefit of the HydraFacial is that when the suction power of the device is decreased, it can be used to:
Carefully extract unsightly milia around your eyes
Help clear out the under-eye congestion responsible for puffiness and undereye bags
Naturally soften and plump your lips
Once your HydraFacial MD session is complete, you can immediately return to your daily activities and even apply makeup if you choose. Your healthy, radiant skin is the only sign that you've undergone a cosmetic treatment.
HydraFacial Keravive: Healthy Hair Starts With A Healthy Scalp
HydraFacial Keravive is a unique, relaxing treatment designed to cleanse, stimulate, nourish, and hydrate the scalp for fuller and healthier-looking hair.
Poor scalp health can be characterized by:
Dry skin
Clogged hair follicles
Dead skin cells
Overall lack of circulation
Poor scalp health can be a major contributor to damaged and thinning hair and inhibit healthy hair growth.
HydraFacial Keravive is a 3-step treatment:
Cleanse, exfoliate and hydrate the scalp and hair follicles.
Stimulate scalp circulation and nourish scalp and hair follicles with growth factors and skin proteins.
Deliver daily scalp and hair follicle nourishment and stimulation.
The result? Thicker, fuller, healthier-looking hair!
Maintaining Your Glowing Skin
After your first HydraFacial session, you'll notice that your skin has a softer texture and more even tone, is less oily and prone to breakouts, and has fewer visible lines and wrinkles. All of this is achieved in 30 minutes and is the perfect way to get your skin glowing before a special event or as an integral part of your skincare regimen. We recommend a HydraFacial every 4 to 6 weeks to maintain your results. Regular treatments not only keep your skin looking smoother and more youthful, but they actually improve the health of your skin. They can also lessen the severity and frequency of acne by keeping your pores clear and free of congestion.
Your Best You Awaits
If you have been searching for a gentle, effective way to revitalize your skin, it's time to discover the benefits of HydraFacial. Call our Medford, Oregon, medspa at (541) 200-2444 or book an appointment online.
Meet


Your Providers

At Pure Medspa in Medford, OR, you can expect all the indulgence of a spa experience with all the medical expertise of a dermatology practice. Your provider team includes two trained and experienced dermatology specialists: Medical Director Dr. Kevin Wright, board-certified dermatologist, and Aesthetics Director Joe Gatti, PA-C. Using evidence-based treatments and techniques, they create customized results with safety, precision, and artistry.
Dr. Wright
Medical Director
Joe Gatti, PA‑C
Aesthetics Director