Pure MedSpa
3143 Signature Ct.
Medford, OR 97504
Phone: (541) 200-2444
Tuesday–Friday: 9 a.m.–6 p.m.

The Clinic for Dermatology & Wellness
2924 Siskiyou Blvd, Suite 200
Medford, OR 97504
Phone: (541) 200-2777
Tuesday–Friday: 7:30 a.m.–5:30 p.m.

Laser Skin Rejuvenation
Rejuvenate your skin from the inside out with ContourTRL™, MOXI®, ClearSilk®, Artic Peel, and other laser skin rejuvenation treatments available at our Medford, OR, dermatology practice. These treatments use heat and light energy to stimulate your skin's natural regenerative response, encouraging your body to turn back cellular aging mechanisms to slow the skin aging process..
Whether you're looking for a gentle treatment for early signs of aging or a deeper-reaching solution to fine lines, you'll find what you need in our varied selection of science-backed laser skin rejuvenation devices.
ContourTRL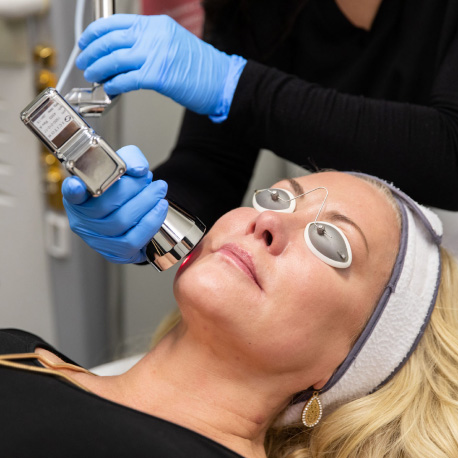 Pure Medspa offers ContourTRL, an advanced, versatile laser that can give you smoother, younger-looking skin—even if you have deep or significant signs of aging or skin texture issues.
How Does It Work?
ContourTRL removes the skin's outer layers, revealing the fresh, healthy skin underneath. The laser also stimulates collagen production, firming the skin and making it more resilient. Our skilled skin specialists customize the treatment to suit your individual needs and achieve the results you want.
What Is Recovery Like?
Since ContourTRL treatment is a deep ablative treatment that removes damaged skin to a depth of up to 1.5 mm, you should expect some redness, swelling, tightness, and itching afterward. Fresh new skin will typically cover the treated area within 1 to 2 weeks, while complete recovery usually takes no less than a month. You may wish to schedule some social downtime for recovery. When healing is complete, you can expect dramatic improvement.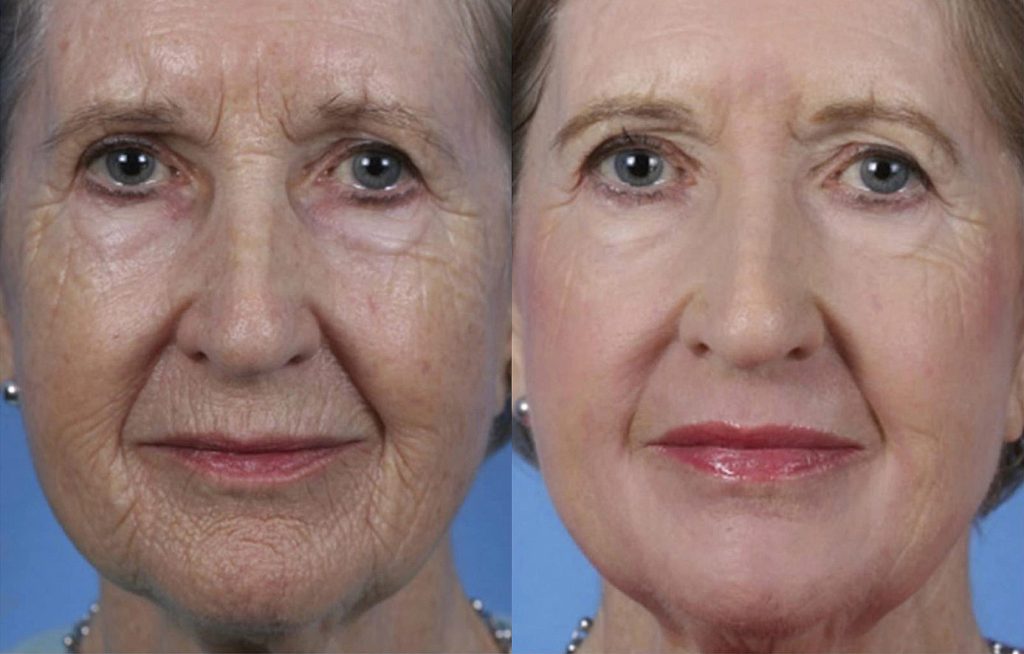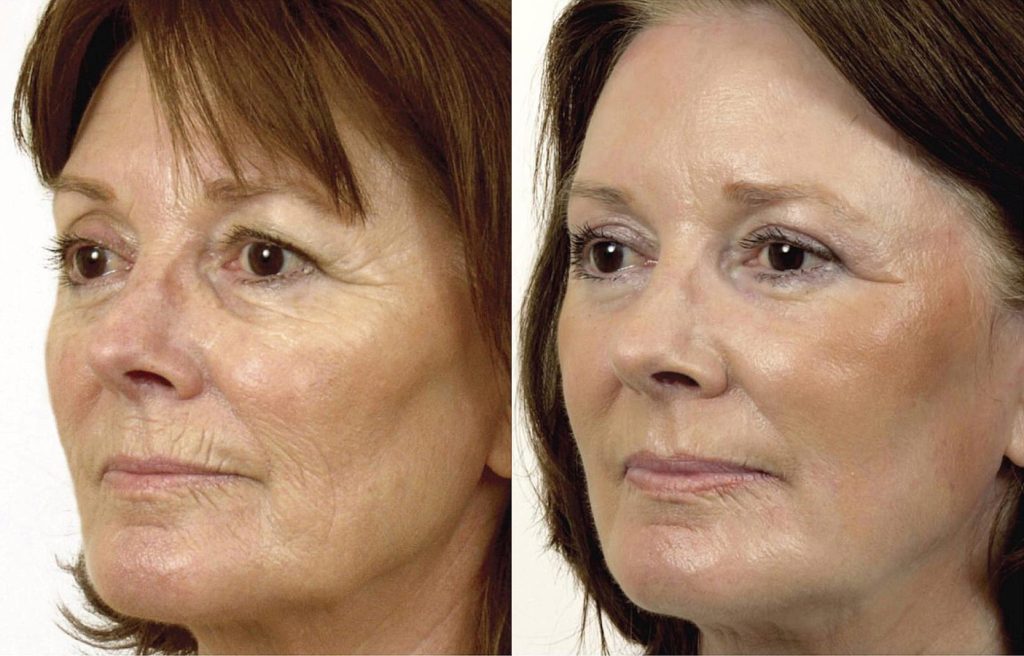 How Many Treatments Will I Need?
The number of treatments will depend on your individual goals and the condition of your skin. Some patients may require only one or two sessions, while others may need more to achieve optimal results. We will work with you to develop a personalized treatment plan to achieve the youthful, glowing complexion you desire.
MOXI
Often called a "prejuvenation" treatment, MOXI is an excellent first treatment for those looking to address early signs of sun damage or aging.
How Does It Work?
MOXI uses a non-ablative, fractionated 1927 nm wavelength to gently stimulate your skin's regenerative response. This results in a smoother, brighter, more evenly pigmented skin surface without the downtime associated with other laser treatments.
What Is Recovery Like?
There is little to no recovery involved. You can return to your usual activities immediately and even have a treatment over your lunch break. Patients will notice a rough texture for 2 to 3 days after treatment.
How Many MOXI Treatments Will I Need?
While you'll likely notice an improvement in your skin after your first treatment, most people need an initial series of 3 to 4 sessions to see their best results. Annual touch-ups keep skin looking fresh and radiant.
Arctic Peel
The Arctic Peel is a gentle yet effective laser treatment that lightly targets the surface layer of the skin to reveal a fresher, rejuvenated complexion.
How Does It Work?
The Artic Peel uses ContourTRL laser technology to deliver controlled energy to the outermost layer of the skin, revealing a smoother, brighter complexion. The treatment, a form of the NanoLaserPeel®, also stimulates collagen production, gradually improving the skin's firmness.
The procedure typically takes only 10 to 20 minutes, and a specialized device is used to cool the skin during treatment for your comfort. Depending on your skin's condition and your aesthetic goals, your provider may recommend a series of treatments spaced several weeks apart for optimal results.
What Is Recovery Like?
Arctic Peel is a painless treatment; most patients can resume their daily activities immediately after the procedure. Your provider will provide personalized aftercare instructions to make sure you experience a comfortable and smooth recovery.
How Many Treatments Will I Need?
The number of treatments varies depending on your skin type and specific concerns. Many patients see significant improvements after just one Artic Peel. However, depending on your skin concerns, we may recommend a series of treatments. During your consultation, we will work with you to create a treatment plan that addresses your needs and goals.
Model
Maximize Your Experience:
Loyalty Programs & Specials
Get more from every visit! Explore our loyalty programs for exclusive offers and instant rewards. And check out our specials to access savings on your favorite medical spa treatments and skincare products.
Model
ProFractional Laser®
Pure Medspa uses the ProFractional® laser for specific skin rejuvenation treatments—primarily scar revision. This versatile laser is another advanced technology Pure Medspa uses to help our patients achieve their aesthetic goals.
ClearSilk
Restore the building blocks of healthy, youthful, and glowing skin with ClearSilk's innovative approach to deep dermal heating. The ClearSilk laser is the safest, fastest, and least complicated laser therapy in the world.
How Does It Work?
ClearSilk deposits non-ablative heat energy deep within the dermis to heat the underlying tissues and stimulate a natural healing response. This response clears excess pigment, reduces vascularity, and improves the overall appearance of your skin and pores.
What Is Recovery Like?
You can return to your usual routine right away after a ClearSilk treatment. You may have some lingering redness or sensitivity for a couple of days.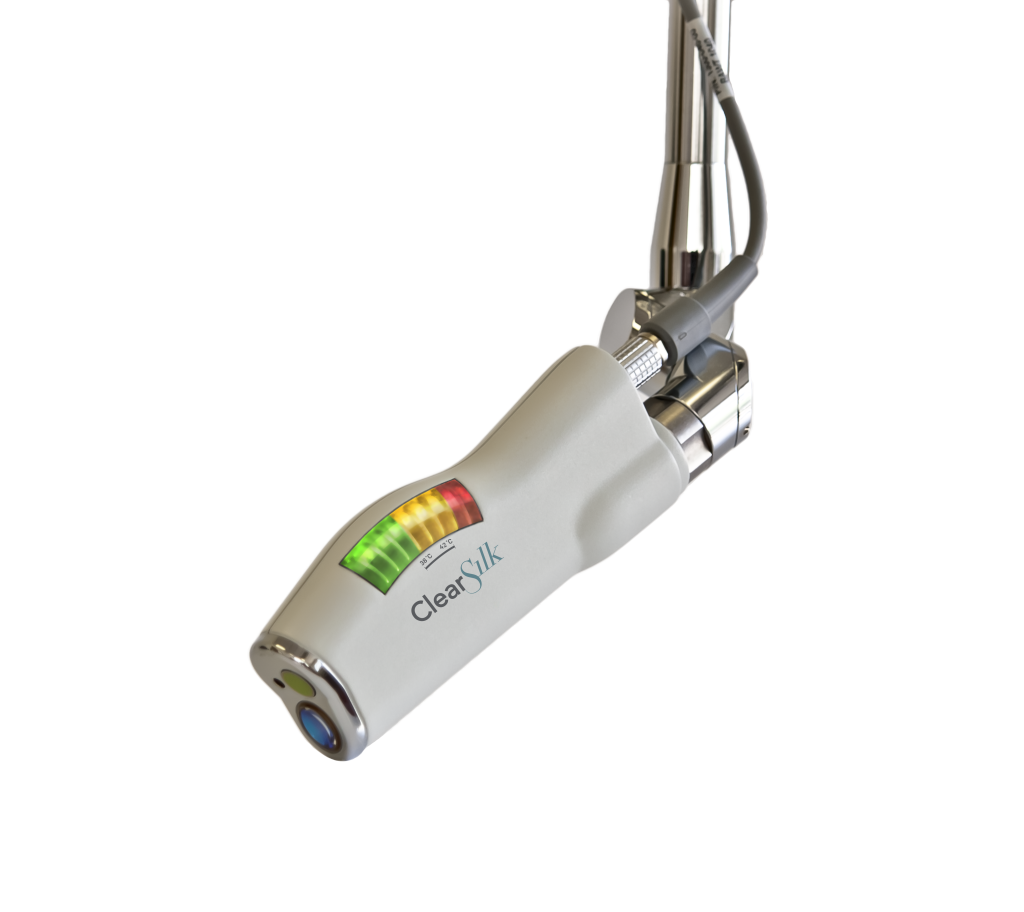 How Many ClearSilk Treatments Will I Need?
Most people benefit from a series of 4 to 6 treatments spaced 2 to 4 weeks apart. You'll likely notice a subtle difference after your first appointment, and your results will improve more and more with each subsequent session.
Other Laser Skin Rejuvenation Options
In addition to MOXI and ClearSilk, we offer several other laser skin treatments so you can find a perfect fit, no matter your concerns.
HALO® Laser Skin Resurfacing
The HALO hybrid fractional laser uses both ablative and non-ablative wavelengths to stimulate collagen production and rejuvenate skin from the inside out. HALO is an excellent option for those with more significant texture concerns and signs of aging.
Forever Young BBL™
This anti-aging light treatment uses broadband light to address sun damage, hyperpigmentation, fine lines, and more, all with little to no downtime. If you have noticeable freckles or signs of sun damage you would like to address, Forever Young BBL may be your best solution.
Forever Clear BBL™
Generally indicated for acne, this 3-in-1 treatment kills acne-causing bacteria, reduces inflammation, and encourages your skin's natural healing process. Forever Clear BBL is ideal for those looking to treat acne while giving their skin a fresh, youthful glow.
Combining Laser Skin Rejuvenation Treatments for Comprehensive Results
While both MOXI and ClearSilk offer multiple benefits, they truly shine when paired with other skin treatments.
MOXI + HALO or BBL: Adding MOXI to a HALO or BBL treatment is a great way to amplify your results without significantly extending your downtime. The added power of MOXI can further reduce the effects of sun damage or aging and give you an even longer-lasting youthful glow.
ClearSilk + HALO or BBL: ClearSilk reaches deep into the dermis to clear pigment, reduce vascularity, minimize pore size, and more. Combining it with a HALO or BBL treatment will rejuvenate your skin's deeper layers and surface, delivering more comprehensive and longer-lasting results.
Your dermatologist will design a unique recommended treatment plan based on your current concerns and overall skin goals.
Your Best You Awaits
If you would like to learn more about laser skin rejuvenation treatments in the Rogue Region, please give us a call at (541) 200-2444 or book an appointment online. Our office welcomes people from communities throughout Southern Oregon and Northern California.
Meet


Your Providers

At Pure Medspa in Medford, OR, you can expect all the indulgence of a spa experience with all the medical expertise of a dermatology practice. Your provider team includes two trained and experienced dermatology specialists: Medical Director Dr. Kevin Wright, board-certified dermatologist, and Aesthetics Director Joe Gatti, PA-C. Using evidence-based treatments and techniques, they create customized results with safety, precision, and artistry.
Dr. Wright
Medical Director
Joe Gatti, PA‑C
Aesthetics Director