Pure MedSpa
3143 Signature Ct.
Medford, OR 97504
Phone: (541) 200-2444
Tuesday–Friday: 9 a.m.–6 p.m.

The Clinic for Dermatology & Wellness
2924 Siskiyou Blvd, Suite 200
Medford, OR 97504
Phone: (541) 200-2777
Tuesday–Friday: 7:30 a.m.–5:30 p.m.

Laser Hair Removal With Sciton BARE HR™
Get rid of unwanted hair and experience smooth, silky skin with BARE HR™ laser hair removal at our Medford, OR, medspa. Try the fastest, safest, and most effective laser hair removal technology for yourself and enjoy the long-term results.
At Pure Medspa, we understand the daily struggle of dealing with excess body hair. This advanced technology provides a long-lasting solution for women and men of all skin types who find shaving or other hair removal methods a hassle.
How Does BARE HR™ Work?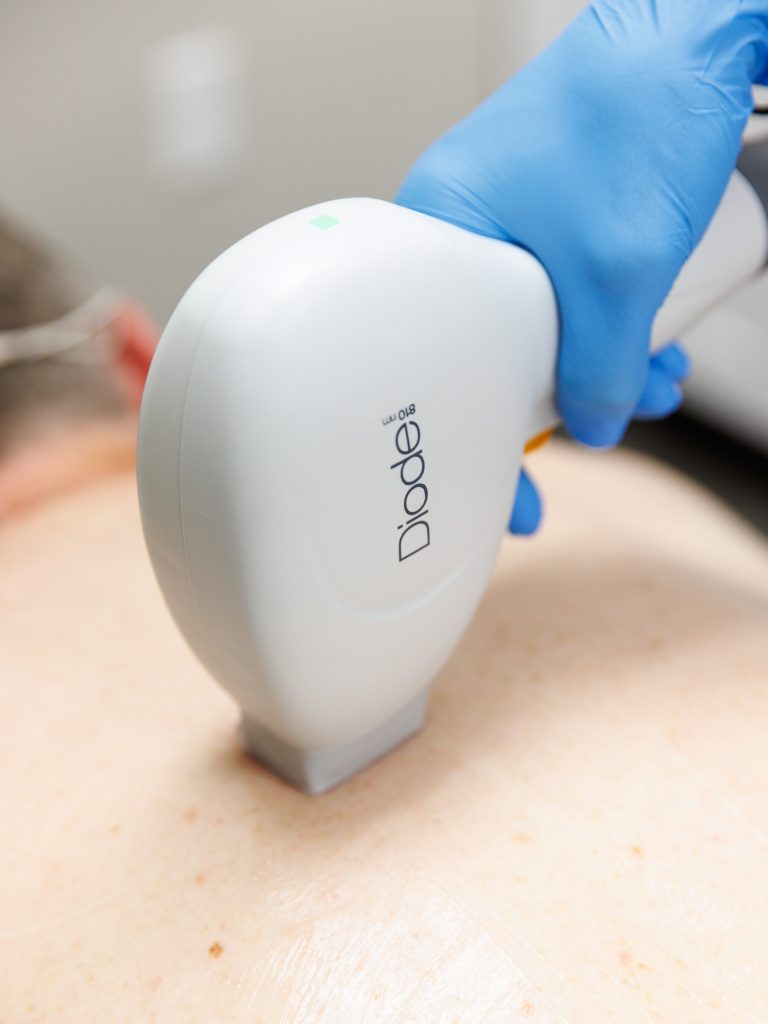 Unlike traditional hair removal methods like shaving and waxing, the BARE HR laser offers a permanent solution for hair reduction.
BARE HR precisely targets hair follicles while protecting the surrounding skin. The laser emits quick, concentrated pulses of light, damaging the hair follicle at the root and inhibiting hair regrowth. To keep you comfortable during treatment, BARE HR is equipped with a mechanism that keeps the skin cool and comfortable.
It's important to note that hair grows in cycles, so multiple treatments are required to target all hair follicles during their active growth phase. The number of treatments needed will depend on several factors, such as hair thickness and the size of the treatment area.
The results with BARE HR are long-lasting and can provide a permanent solution to unwanted hair. However, occasional touch-up treatments may be needed to maintain your smooth skin.
BARE HR is a safe and effective option for women and men of any skin type—even patients with darker skin tones who may not have been candidates for laser hair removal treatment in the past.
Model
Maximize Your Experience:
Loyalty Programs & Specials
Get more from every visit! Explore our loyalty programs for exclusive offers and instant rewards. And check out our specials to access savings on your favorite medical spa treatments and skincare products.
Model
The Sciton BARE HR System
Pure Medspa uses Sciton BARE HR, a revolutionary hair removal device that is safe for all skin types and tones. BARE HR's advanced technology enables lasting hair reduction from all areas of your body while providing a fast and virtually pain-free experience.
Bare HR is unique because it offers three wavelengths of laser energy to quickly and precisely target hair follicles while protecting the surrounding skin. It is also equipped with a cooling function to ensure your comfort during your procedure.
We have chosen BARE HR as our preferred hair removal device because of its advanced technology and ability to address unwanted hair on a range of body areas, including:
Small areas – Brows, sideburns, upper lip, chin, areola
Medium areas – Face, neck, underarms, abdomen, bikini line
Large areas – Shoulders, abdomen, partial arms, partial legs, pubic region
Extra large – Back, full arms, full legs
When you visit Pure Medspa for a consultation, you will speak with our Aesthetics Clinician, Joe Gatti, PA-C. He will decide if you are a good candidate for BARE HR and give you an idea of how many sessions will likely be needed to achieve your desired results. He will also advise you on how to prepare and what to expect during and after your treatment.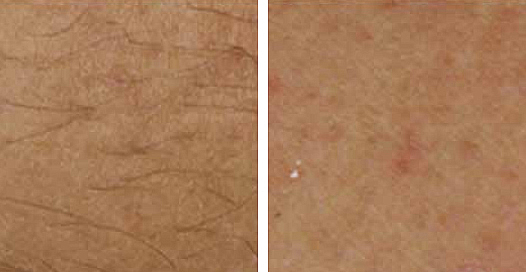 BARE HR Hair Removal Treatment and Side Effects
Your BBL hair removal treatment is performed in the comfort of our office, and the time it takes will vary according to the area treated, as well as the size of the treatment area. Once your treatment is complete, you can expect minor skin irritations such as redness, tenderness, itchiness or swelling, but these are normal and resolve quickly. Your skin may be more delicate after the treatment, so treat it gently – do not rub or scratch the area, and keep it clean and dry. Your skin will also be more sensitive to the effects of sunlight, so if the treatment area is one that is exposed to the sun, be sure to use sunscreen or cover the area if possible.
BARE HR Hair Removal Results
It is important that you understand that the results of your BARE HR hair removal sessions are not immediately visible. Because the treatment damages the hair follicle, it takes some time for the hair to die and fall out. Additionally, there may be some hair that wasn't affected because it was in a different stage of the hair growth cycle, so you may require one or more additional treatments. You will be able to shave in between your sessions as needed, until you've achieved the results you desire.
Over time, you will notice a reduction in hair growth in the treatment area, and any hair that does grow back is typically thinner and less coarse. We will work with you to determine the number of sessions you will need for optimal results, so that you can enjoy the lasting gift of smoother, softer skin.
Your Best You Awaits
If you've considered exploring the world of long-lasting hair removal, it's time to discover the latest in safe and effective hair removal treatments. Call The Clinic for Dermatology & Wellness today at (541) 200-2444 and schedule an appointment for a consultation.
Meet


Your Providers

At Pure Medspa in Medford, OR, you can expect all the indulgence of a spa experience with all the medical expertise of a dermatology practice. Your provider team includes two trained and experienced dermatology specialists: Medical Director Dr. Kevin Wright, board-certified dermatologist, and Aesthetics Director Joe Gatti, PA-C. Using evidence-based treatments and techniques, they create customized results with safety, precision, and artistry.
Dr. Wright
Medical Director
Joe Gatti, PA‑C
Aesthetics Director