Summer is just around the corner, so it's time to start preparing your body for warm-weather clothing and the beach. Fortunately, advancements in nonsurgical body contouring and laser hair removal make it possible to achieve a better summer body without surgery or downtime.
This guide will cover two of the most effective body contouring treatments—CoolSculpting® and EMSCULPT NEO®—and one of the best laser hair removal methods, BARE HR™, to prepare you for the summer season.
Nonsurgical Body Contouring
CoolSculpting and EMSCULPT NEO are popular nonsurgical body contouring treatments, targeting areas of the body that can be difficult to improve with diet and exercise alone—and all those areas you bare in the warm summer sun.
CoolSculpting for a Sleek Summer Body
Are you a good candidate for CoolSculpting? CoolSculpting is a noninvasive fat reduction treatment that uses controlled cooling to freeze and eliminate stubborn fat cells. The procedure takes about 35 minutes per area.
CoolSculpting can treat the following areas:
Upper arms
Bulges along your back or bra
Waist and flanks (love handles or muffin top)
Abdomen
Hip area (saddlebags)
Under the buttocks
Inner and outer thighs
Results from CoolSculpting take time to develop, so keep reading to learn when to schedule your treatment so that you're ready for summer's first heat wave.
EMSCULPT NEO for a Toned, Fit Look
Do you want to look ripped in your swimsuit or just feel stronger while swimming, water skiing, or hiking? EMSCULPT NEO is a noninvasive body contouring procedure that uses high-intensity focused electromagnetic (HIFEM) energy to build muscle and burn fat. Treatments take around 30 minutes per area.
EMSCULPT NEO can tone and slim these areas:
Abdomen
Buttocks
Arms
Calves
Thighs
You'll need a series of 4 EMSCULPT treatments to strengthen and tone your muscles to their fullest, helping you look and feel great all summer long.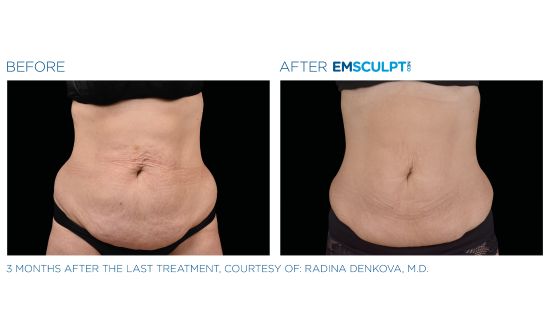 The Ultimate Nonsurgical Body Contouring Combination
As the descriptions above make clear, CoolSculpting and EMSCULPT NEO work in different ways. CoolSculpting reduces the fat volume in targeted areas, leading to a leaner, more contoured appearance. EMSCULPT NEO tones and defines muscles, creating a more sculpted, athletic look.
Combining these two treatments provides synergistic effects, leading to even better results. By pairing CoolSculting and EMSCULPT NEO, you can reduce stubborn fat deposits and promote muscle tone in different body areas, leading to comprehensive and balanced body contouring results.
Laser Hair Removal With Bare HR
BARE HR is an innovation in hair removal—a safe, comfortable treatment that removes unwanted hair from the body with faster treatment times than other lasers. Short pulses of light energy are delivered to the hair follicle, destroying the hair without harming the skin. BARE HR is suitable for men and women of all skin types, even those with darker skin tones who may not previously have been candidates for laser hair removal.
BARE HR can be used to quickly treat a variety of body areas—both large and small—including:
Face
Bikini area
Underarms
Legs
Arms
Back
Chest
Shoulders
You'll notice less hair and a reduction in hair thickness after just one treatment. But because hair grows in stages, most people will require multiple sessions to achieve optimal results. The number of treatments needed will depend on the individual and the area being treated. On average, patients need anywhere from 3 to 6 treatments spaced 4 to 6 weeks apart. Your provider can tell you how many sessions you'll likely need for optimal results.
Over time, the hair will become finer and less noticeable. Ultimately, you can expect to achieve smoother skin that will last for several months at a time or even longer.
Countdown to Summer Timeline
The number of treatments you need for CoolSculpting, EMSCULPT NEO, and BARE HR will depend on various factors, including the area being treated, your body type, and the amount of hair being targeted. Here's a general timeline of when to plan your treatments so you can pull on those shorts and tank tops as soon as the weather starts to warm:
Schedule 2 to 3 months before summer: CoolSculpting results can be seen in as little as 3 weeks, but the full results can take up to 3 months to develop.
Schedule 1 month before summer: EMSCULPT NEO results are visible after the first session. A series of 4 treatments spaced 5 to 10 days apart is recommended for optimal results.
Schedule 1 to 4 months before summer: Although you'll see some hair reduction within a few weeks after your first treatment, BARE HR typically requires 3 to 6 sessions spaced 4 to 6 weeks apart to achieve optimal results. After completing the initial treatment plan, you can maintain your results with touch-up treatments once or twice a year.
Outcomes may vary depending on your individual needs and goals. It's essential to have a thorough consultation with a qualified and experienced provider before starting any treatment.
With the right body contouring and laser hair removal treatments, you can feel comfortable and confident in your skin all season long. Whether you want to target stubborn fat, build muscle, or get rid of unwanted hair, there's a nonsurgical treatment option that can help you achieve your goals.
Request a Consultation
If you're interested in getting started on your summer-ready body with CoolSculpting, EMSCULPT NEO, and BARE HR, call our Medford, Oregon, office today at (541) 200-2444 or request a consultation.