Pure MedSpa
3143 Signature Ct.
Medford, OR 97504
Phone: (541) 200-2444
Tuesday–Friday: 9 a.m.–6 p.m.

The Clinic for Dermatology & Wellness
2924 Siskiyou Blvd, Suite 200
Medford, OR 97504
Phone: (541) 200-2777
Tuesday–Friday: 7:30 a.m.–5:30 p.m.

Obagi® Skin Care
We carry the Obagi Nu-Derm® System, which is the #1 physician-dispensed skin care system to help correct visible signs of skin aging.
The safety and effectiveness beyond 24 weeks of use have not been established. A leader in skin health, Obagi Medical Products, Inc., is a global specialty pharmaceutical company founded by leading skin care experts in 1988. Obagi products are designed to help minimize the appearance of premature skin aging, skin damage, hyperpigmentation*, acne, and sun damage and are primarily available through dermatologists, plastic surgeons, medical spas, and other skin care professionals.
Obagi SunShield
The Obagi®sunscreen family offers a solution for every skin type and skin tone. Our sunscreens are formulated to:
Help prevent sunburn and promote healthy-looking skin
Offer broad-spectrum sun protection against damaging UV rays
Contain the American Academy of Dermatology (AAD) recommended SPF of 30 or higher
Incorporate into your daily skincare routine
Obagi Nu-Derm® System
Transform your skin with the #1 physician-dispensed skin care system that helps correct hyperpigmentation and improve visible signs of skin aging.
Skin aging is a natural process, but daily sun exposure can contribute to premature aging. Sun-damaged skin appears dull, with older, damaged cells accumulating due to slower skin cell turnover.
The Nu-Derm System helps transform the skin's appearance by reducing dark spots, revealing younger, healthier-looking skin.
Nu-Derm is ideal if you have:
Age spots
Rough skin
Erythema (redness)
Sallowness (yellowish complexion)
Hyperpigmentation (discoloration)
CLENZIderm M.D.™ System
The Obagi CLENZIderm M.D. System treats acne at its source. Intended for normal to oily skin, this complete regimen helps to banish blemishes, blackheads, and enlarged pores every step of the way, leaving you with a clear, fresh complexion. Its gentle yet effective ingredients make it perfect for teens and adults alike.
Salicylic acid, a mild beta hydroxyl acid, works to gently exfoliate skin, clearing pores and eliminating impurities. Benzoyl peroxide, a leading antibacterial ingredient, eliminates the impurities responsible for causing acne and inflammation. Unlike other acne treatment regimens, the CLENZIderm M.D. System will never over-dry. Instead, skin is left balanced and hydrated as blemishes heal and fade.
Professional-C™ Products
Vitamin C is known to offer a multitude of benefits for skin. The Obagi Professional-C line is formulated with L-ascorbic acid, a stable form of vitamin C, to help strengthen skin against visible signs of aging. With regular use of these products, you can minimize the appearance of fine lines and wrinkles, calm redness, brighten the complexion and improve moisture retention. Vitamin C also offers superior antioxidant protection against the environmental stressors that cause premature aging, such as sun exposure and pollution.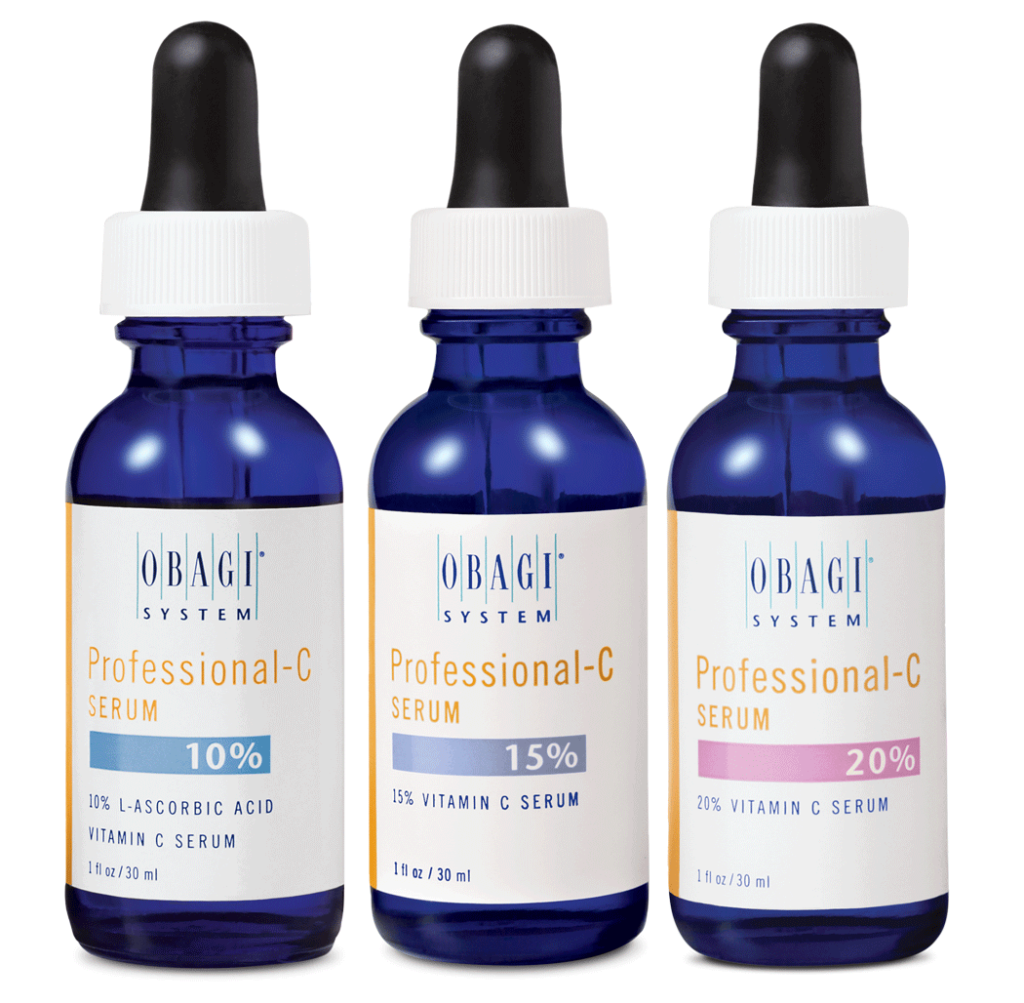 SUZANOBAGIMD™ – The Next Generation of Skin Care
Reveal a healthier, more radiant complexion with new skin care products from SUZANOBAGIMD. This unique line of clinically-studied and dermatologist-tested products is perfectly balanced to include the powerful ingredients your skin needs and the purposeful exclusions that they don't.
This three-step skincare line is formulated to cleanse the skin of dirt, excess oil, and makeup to create a clean base for additional skin care, protect the skin with physical sunscreens to help block UVA/UVB rays and renew the skin with gentle exfoliators like polyhydroxy acids and retinaldehyde. Each product is free of parabens, synthetic fragrances, and dyes. SUZANOBAGIMD skin care products are ideal for all skin types and those who want gentle skin care solutions to treat concerns like acne, fine lines and wrinkles, rough skin texture, and lackluster complexions. Experience the next generation of skin care with SUZANOBAGIMD.
ELASTIderm
Obagi ELASTIderm Eye Cream is perfect for those with normal to dry skin. This intensely hydrating under-eye cream is an all-purpose solution to your common aging eye concerns. The formula helps tighten and firm sagging skin around the eye, minimize fine lines and wrinkles and alleviate dark circles and puffiness. It also contains malonic acid, a gentle exfoliator that helps to remove dulling dead skin cells, and a bi-mineral complex to help restore elasticity. The active ingredients are delivered deep into the skin via advanced Penetrating Therapeutics technology so that you can enjoy results in as little as two weeks.
Clinically proven to produce results in as little as two weeks
Features an advanced delivery system for maximum benefits
Protects against free radical damage
ELASTIderm Eye Serum
Obagi ELASTIderm Eye Serum is a unique formulation that is perfect for mature skin. This anti-aging eye serum helps to strengthen, firm, and protect the delicate skin around the eye for a youthful, revitalized appearance. A bi-mineral complex helps to promote healthy collagen and elastin production while minimizing fine lines and fading the look of dark circles. The formula also contains caffeine to help alleviate under-eye puffiness and malonic acid to help exfoliate dulling dead skin cells.
Strengthens fragile skin
Contains malonic acid to stimulate cell turnover
Innovative rollerball applicator
Look more awake and alert with Obagi ELASTIderm Eye Serum
Model
Maximize Your Experience:
Loyalty Programs & Specials
Get more from every visit! Explore our loyalty programs for exclusive offers and instant rewards. And check out our specials to access savings on your favorite medical spa treatments and skincare products.
Model
Hydrate
Moisturize and protect with Obagi Hydrate Facial Moisturizer.
Obagi Hydrate Facial Moisturizer allows you to intensely hydrate and protect skin in one simple step. This top-rated lotion helps to nourish and replenish skin cells for up to eight hours. An advanced hydromanil delivery system gradually releases moisture throughout the day to help you maintain soft, smooth skin. Shea butter, avocado oil, mango butter, and glycerin help hydrate and alleviate a tight, dry complexion. This facial hydrator also helps to protect against the environmental stressors that cause signs of aging, such as fine lines and dark spots.
Hydrates with shea butter, avocado oil, mango butter, and glycerin
Protects and moisturizes skin for up to eight hours
Offers protection against environmental damage
Hydrate Luxe
Moisturize skin with Obagi Hydrate Luxe.
While you sleep, your skin works to improve its texture, radiance, and overall appearance. Obagi Hydrate Luxe is designed to complement the skin's natural nightly functions. This ultra-rich facial cream deeply hydrates to keep skin looking soft and supple. With continued use, this moisturizer also helps improve the appearance of fine lines, skin texture, firmness, skin radiance, and overall hydration.
Shea butter, mango butter, and avocado extracts moisturize skin
Biomimetic peptides support the skin's natural functions and minimize wrinkles
Hydromanil provides immediate and long-lasting hydration to help skin retain moisture
Combat dryness, fine lines, wrinkles, and more with help from Obagi Hydrate Luxe