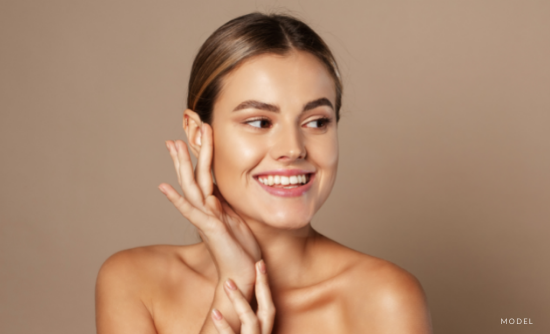 Spring is the perfect time to get your glow on, but do you know the secret to attaining a true, lit-from-within glow that lasts? We do! Pure Medspa is passionate about helping you maintain all aspects of your skin's health, including how it looks and feels and glows. So, we've done the research to bring the industry's best photofacial and laser skin resurfacing treatments to you in Medford so you can renew your skin, reverse sun damage, and enjoy a radiance that lasts.
Here's a look at just a couple of our award-winning skin rejuvenation solutions and the science behind the results (which we think is the best part!):
BBL® Photofacial
BBL stands for broadband light, which is the most effective and powerful type of photofacial light available. As this intense light hits your skin, it breaks apart hyperpigmentation (age spots, sunspots, and freckles) redness, rosacea, small veins and broken capillaries, and other sources of uneven skin tone. This intense light penetrates your skin without breaking it, which means there's little to no downtime after this treatment. Besides helping you enjoy more evenly toned skin, BBL photofacial also stimulates your skin by triggering its natural healing response. This means your skin generates new collagen and elastin with every treatment you experience, helping you enjoy long-lasting skin renewal.
What this all means to you is that you really can't overdo BBL photofacials. To achieve your initial complexion goals, we typically recommend a series of treatments. But to maintain your benefits, we recommend "touch-up" treatments every few months or once a season. The more the better! With every photofacial, you are stimulating new collagen and elastin, and that's a benefit you'll want to prolong. In fact, it's rather addictive!
HALO® Fractional Laser Skin Resurfacing
HALO is the world's first hybrid laser skin resurfacing treatment, which means it treats your skin with two types of light. Unlike BBL photofacial, which stimulates your skin without breaking the surface, HALO resurfaces your skin, treating a fractionated portion to stimulate skin renewal. Are you wondering why only a fraction of skin is treated with HALO? Great question! Fractionated skin treatments are designed intentionally to create "controlled damage" on a perfectly proportioned fraction of skin, leaving some untreated skin behind. This untreated skin helps speed your skin's healing process, accelerating your recovery time. Even though you're treating only a fraction of your skin, you're still able to achieve all the same skin-renewing benefits, including smoother texture, brighter tone, smaller pore size and more, but you're cutting down on your healing time, which is a win-win for us all!
For HALO and BBL photofacial, we recommend pairing your treatments with medical-grade skin products designed to enhance your skin-renewing benefits and maintain them over the long term. We proudly carry Alastin® Skincare products, which are specifically formulated to use in tandem with your professional skin treatments with us. We can help you pick out the best products for you during your next visit!
Want to learn more about skin renewal and getting your glow on this spring? We're excited to talk with you about HALO and other terrific options at our Medford office, so call us at (541) 200-2444 or request an appointment online today.